September, 2017 – October, 2017
To Whom It May Concern,
 Let me advise you, that since we last posted in January 2015 quite a bit has evolved.  While we continue with GED Preparation /Adult Basic Educational Literacy /Computer Training (Basic to Advanced) /Big Read Program / Computer-Electronics Responsible Recycling… We have upgraded to the HVC Shoe Drive Campaign; The Equal Dollars Community Currency Program; along with the HVC Food Cooperative.  We also have a Job Preparation Program underway and we are training people interested in becoming employed with our organization.  In November, 2017 we will introduce Urban Farming and A Citizens Resource Center in Strawberry Mansion.
Our Corporate Logo (the HVC Baseball Cap)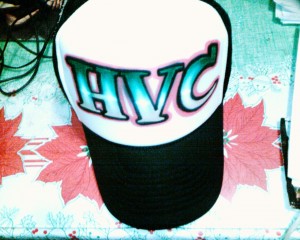 www.harmoniousvolunteercenter.org
How Integrated Programming works for all of us at the Harmonious Volunteer Center is that each component (Job/task/function) overlaps to reinforce and cross train our volunteers to be more profient in performing their duties of service to the public as well as becoming a true team player within our organization.
What we accept: Computer Processors/Desktops / Towers /Harddrives/CPUs/Printers All types/Scanners/Cell phones/CRT & Flat Screen Monitors/Video Recorders & Cameras/ Radios/Microwaves/Computer accessories/Software/Laptops/Equipment or Hardware in any condition is accepted.
What we accept:  Refrigerators / Freezers in working condition.
What we accept:  Automobiles / Vans / Trucks
Contact:  Irvin B. Shannon, Executive Director, Email: hvcorder@hotmail.com   Our services are being provided to help citizens, businesses, corporations, and government to be in compliance with HouseBill 708(Act108).  Responsible accounting and de-manufacturing is provided by   R2/ISO 14001 Certified Computer Recyclers and E-Stewards in accordance with EPA standards..   Computer & Electronics Recycling is the Law.
Professional Development and Employee Training Job Readiness                                           We provide professional Resume' preparation ; Professional Interviewing Techniques; Job Search and Industry Research Methods; Job/Qualification Matching for Employment referrals.  We have Hands-on-the-Job Training with our:
HVC Shoe Drive Campaign               Our Special Event Promotions            Fund Raising Events
Our training participants spend 2 hours on Tuesday and/or 2 hours on Saturday at our training facilities at North Penn Civic Association's Community Center, 2800 North 29th Street, Philadelphia, PA 19132.
Building New Community Centers in Urban Environments             Building New (State of the Arts) Community Centers in Urban Cities is another major undertaking of the Harmonious Volunteer Center and our organization has developed a blueprint for successfully achieving new construction, grassroots citizen inclusion, and building community pride.
There are so many positive benefits to this program, I may not be able to name all of them.  But, let's take a look at a concise view:  (1) Community Organizing (2) Stakeholder Involvement (3) Corporate Cooperation (4) Financial Development (5) Job Creation (6) Volunteer Opportunities (7) Employment Training (8) Maintenance and Sustainability (9) Vendor Supports.
This undertaking values at 3 million dollars for the New Community Center representing 10% of the overall Park Renovation Project upward toward $25 million.
Contact: Irvin B. Shannon, Executive Director for more information. hvcorder@hotmail.com Telephone 267-595-5278 or US mail: POB 50463, Philadelphia, PA 19132.  Website: www.harmoniousvolunteercenter.org
Chalmers Park at 2800 North 29th Street, Philadelphia, PA 19132 is the designated demonstration model of grassroots inclusion whereby the HVC Shoe Drive Campaign which is to receive your donation of shoes and footwear will help to fund the project.
ectwww.harmoniousvolunteercenter.org
Urban Garden Programs
Grant Writing and Proposal Preparation
Fund Raising Events:  You will be invited to attend a Breakfast / Luncheon / or Dinner Event (dates and locations to be announced)
Positive Youth Initiatives
Kid's Are Creative Program includes:   Kids Fun Day; Cradles To Crayons-Age Appropriate Clothing, Toys and Educational Books; Adopt A Tree Environmental Learning of Nature; Kids Grow Urban Gardening; Youth Leadership; Cheerleading/Drill Teams/Double Dutch/Football/Boxing/Baseball/Basketball/Football and other Organized Sports.
Temporary Aid To Needy Families (TANF) has been of a major concern at the Harmonious Volunteer Center.  Those parents require training in order to qualify for employment.  Those parents having one or more children and are in need of whatever help or assistance they can receive while they get their lives together.  The Harmonious Volunteer Center has become a distribution partner with the Cradles To Crayons nonprofit organization helping to issue toys, educational books, and clothing for children for needy families .  Children from newborn up to age 12 from needy families qualify to receive these gift packages.  North Penn Civic Association at Chalmers Park (a member organization of the Resident's Coalition), 2800 North 29th Street, Philadelphia, PA 19132 is involved with the process of bringing joy to these children by providing space in the community center at Chalmers Park called Kids Fun Day.
If you know of a needy family, please contact us at 267-595-5278 or email: hvcorder@hotmail.com to request your child's registration form.
The following is a list of our programs:
Special Program – SHOE DRIVE CAMPAIGN-2015
1.       Good Government Program
2.       Housing Program
3.       Transportation Program
4.       Area Beautification Program
5.       Gift of Giving Program
6.       Recycling Program
7.       In Hospital Visitation Program
8.       In-Home Visitation Program
9.       Nursing / Rehabilitation Program
10.   Computer Training Program Basic
11.   Computer Training Program Advanced
12.   Video Training Program
13.   Public Speaking Program
14.   Journalism Training Program
15.   Merchandise Training Program
16.   Donor Program
17.   Event Coordination Program
18.   Crime Watch Program
19.   Positive Youth Development Programs
20.   Talent Bank Program
21.   Adopt A Park Program
22.   Urban Gardening Program
23.   Nutrition and Food Program
24.   Job Readiness Training Program
25.   Health and Medical Initiative Program
26.   Grant Writing Training Program
27.   Travel Program
28.   Business Opportunity Program                                                                                                                                              29.   GED Preparation Program                                                                                                                                                 30.   Adult Basic Education Literacy Program                                                                                                                          31.   Home Based Business University Program                                                                                                                       32.   HVC Food Cooperative Membership                                                                                                                                 33.  HVC Equal Dollars Community Currency Program